RICAR Bank Lockbox Solutions
Increase the speed and processing of your accounts receivable (AR) through the use of a bank lockbox and Freedom's RICAR Lockbox Solution. You'll save your business hours, perhaps days of labor per week along with an improved, streamlined and more secure method for processing payments and correspondence. If you're unfamiliar with how a bank lockbox works — a post office box is set up for your company where all payments are directed as opposed to being sent to your place of business. The bank retrieves the mail from your lockbox and provides the service of immediately depositing any checks received into the company bank account. The obvious benefit — your funds are deposited and are available quicker.
The service saves time and costs by opening the mail, making deposits and eliminating deposit trips to the bank. The checks and documents are scanned for the banks' records and optical character recognition (OCR) is used to capture relevant data from the checks and correspondences.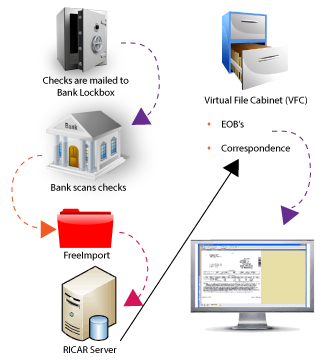 The bank converts the paper and its relevant information into digital information for its own use; but your organization can also take advantage of their work using Freedom's RICAR Lockbox Solution. The solution can securely receive the scanned images and captured data directly from the bank and use the data and images to automatically upload and index the images for use by your company.
The checks, envelopes, everything are captured/indexed and available for internal viewing and digital processing — which makes responding to customer inquiries and resolving problems much easier. Errors are reduced and paper is eliminated. The data captured and indexed can be used to automatically update your AR system, and with RICAR in place your documents have a complete audit trail.
You can expedite the processing of your AR even further using RICAR's workflow management application FreeWf. Along with indexing of the information of these documents to be searched and retrieved by values (i.e., check number, invoice number, document type, vendor name, account number) the data from the bank can be used to automate routing and processing within RICAR workflow.
Now that the heavy lifting has been done, a user given access privileges can take those payments and post them within your accounts receivable system.
Benefits of using a Lock Box with RICAR:
Reduce Days Sales Outstanding (DSO)
Improve staff productivity by automating manual processes.
Decrease the potential for theft, fraud and error by reducing the number of employee "touches" on each transaction
Access decision-critical account information from your desktop.
Expedite remittances — and improve overall cash flow
Reduce paper
How do I get started?
If you're interested in speaking with one of our content management specialists about Freedom's Lock Box solutions or FreeWf contact us at 734.327.5600.