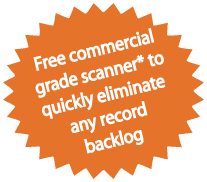 *Up to 3-months with any signed RICAR 1-year minimum contract.
Using Freedom's RICAR solution, FreeScan application, quickly and easily capture and index entire patient files in just moments. RICAR can take advantage of any capture device allowing your practice to use any commercial device available for use or look to Freedom to provide you with an economical scanner that will work with your business processes.
Optical Character Recognition can be used for Forms Recognition and to automatically identify and classify document types (i.e., Physician Notes, Lab Reports, etc.) for specific business process management routing or just ease of record searching.
Take advantage of Freedom's offer to provide your organization with a commercial grade (150 pages per minute!) scanner for up to three months AT NO COST TO YOU to quickly eliminate any record backlog. These scanners are rated to capture 60,000 documents per day! You'll get through that backlog in no time — and economically.
Give us a call today for more information on how Freedom can eliminate paper in your practice and create a HIPAA compliant, secure and disaster recovery program with your medical records.